Bay Farm Montessori | Elementary | Grades 1-6
The Montessori Elementary Classroom:
"In a Montessori Elementary classroom, students work individually or in small groups, at tables or on mats on the floor. Natural lighting, soft colors, and uncluttered spaces set the stage for activity that is focused and calm. Learning materials are arranged on accessible shelves according to the curricular area, fostering independence as students go about their work. Everything is where it is supposed to be, conveying a sense of harmony and order that both comforts and inspires.
Children who are new to Montessori quickly feel at home with the inspired teaching that appeals to their deepest interests, and with the distinctive, hands-on learning materials that teachers introduce sequentially according to the student's developmental needs. For students who have completed Montessori Early Childhood programs, the environment offers continuity with familiar routines and learning materials that offer new lessons and opportunities for more complex exploration and discovery." - American Montessori Society
ELI classrooms provide a Montessori learning environment where students are supported in their emerging abilities to read and write, understand, and manipulate mathematical concepts and materials, the physical and natural sciences, history and geography, and world cultures. The mixed-age grouping provides natural peer mentors and the opportunity for modeling and leadership which reinforces both academic and social skills.
Here at Bay Farm, we emphasize freedom within limits. Respect for children's wide range of styles and abilities enables our highly experienced teachers to help every student gain skills at an individualized pace. Through small and large group lessons and discussions, and a curriculum that integrates the various subjects, and with many opportunities for learning to make good work choices, children have the chance to demonstrate what they learn in a multitude of ways.
Elementary I classrooms are impressive in their calm, focused tone. Students move freely through their classroom, working individually and in small groups. Soft conversation, filled with earnest discussions, enhance the warm atmosphere that is marked by an air of young students doing serious work. Teachers move through the room, giving lessons, answering questions, and generally ensuring that each child is actively engaged and making progress. Emerging skills are enhanced by the opportunity to do age-appropriate research in all subjects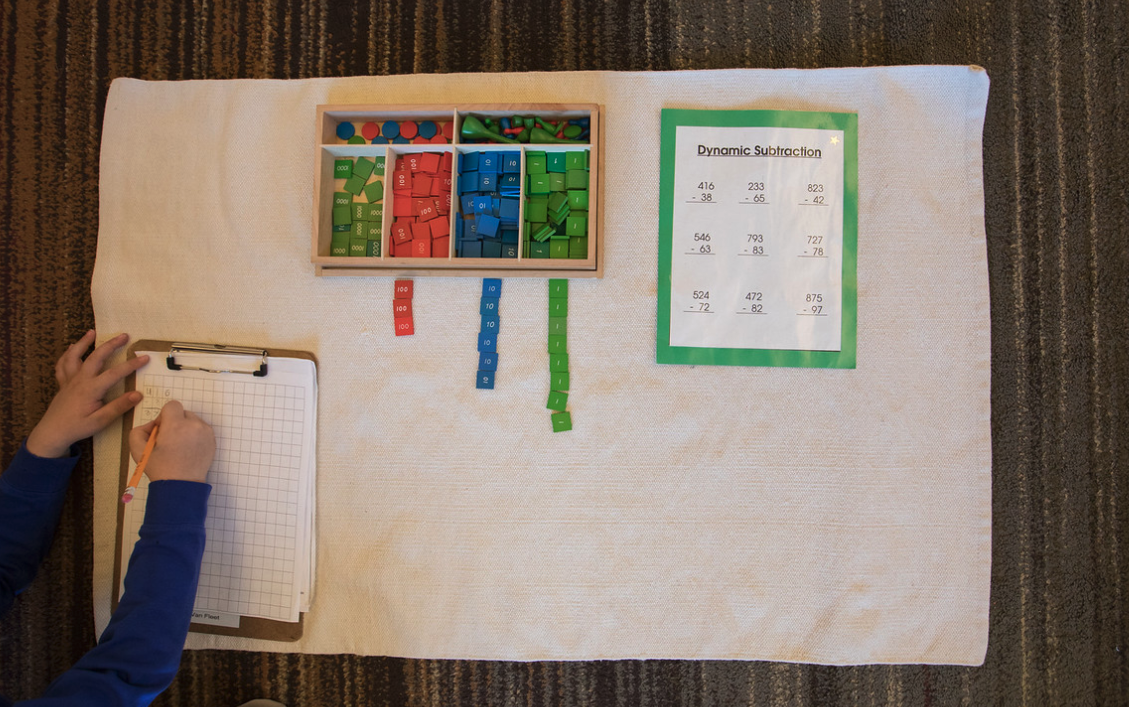 Elementary II is a vibrant world of confident and eager learners. The students in Elementary II embrace larger issues and challenges, more abstract concepts, and greater responsibility than they have before. As in the lower grades, the older students continue to be respected by the younger children in the classroom. Our sixth-year students serve as models for fourth and fifth graders.
Classroom ambiance evolves naturally from Elementary I. Children move freely around both classrooms, taking increasing responsibility for their time and their work. They continue to make choices from an array of assignments. Of enormous significance, they learn to organize their work and plan their time, essential skills for further success in school and in life beyond the classroom.
Elementary II students continue to benefit from a wealth of hands-on materials even as they move into their ability to understand abstraction. Since they move along the concrete-to-abstract continuum at their own pace, some students will be doing algebra while others are still mastering pre-algebraic concepts. Some will absorb the majority of their information from books and other print, while others will continue to use a variety of Montessori and other materials to master grammar, geography, and other subjects.
With Bay Farm's integrated curriculum, they have the chance to do more complex research and demonstrate their growing knowledge and skills through the many avenues of expression they have been developing: creative and expository writing, art, and music.